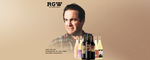 Richard McDonald, partner and winemaker at Rio Grande Winery has been recognized for his outstanding achievement in the New Mexico State Fair Premier Vintner's Award by the New Mexico Vine & Wine Society. In addition, the Rio Grande Winery Chardonnay won the Best of Show award for the best wine at the New Mexico State Fair Wine Competition.
Richard's passion for winemaking and dedication to producing exceptional wines has helped him to become one of the most highly regarded winemakers in the country. He is known for his expertise in the craft, with multiple year-over-year 90+ point reviews from Wine Advocate, Wine Spectator, and other major wine publications. With over 30 harvests of experience in the wine industry and has traveled the world to work in Australia, New Zealand, France, and Napa Valley, CA, Richard's approach to bridging old-world techniques with contemporary style brings together classical and modern tastemakers alike.
Currently, he serves as the Owner/Winemaker at Colorado Vintner's Collective and Rio Grande Winery, where he continues to craft exceptional wines and make a mark in the industry.