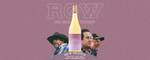 Rio Grande Winery's 2021 Chardonnay has been named Best In Show at the New Mexico State Fair Wine Competition, beating out 218 entries to take home the Premier Vitner's Gold Award for New Mexico. The Chardonnay grapes used in the wine are grown in the Mesilla Valley in front of the winery's tasting room. The wine boasts aromatics of honeydew, orange blossom, cantaloupe, lime zest, and vanilla, with a full rounded palate featuring flavors of pear, white peach, papaya, citrus zest, and honey and a soft, elegant finish.
Richard McDonald, partner and winemaker at Rio Grande Winery has been recognized for his outstanding achievement in the New Mexico State Fair Premier Vintner's Award by the New Mexico Vine & Wine Society. McDonald's passion for winemaking and dedication to producing exceptional wines has helped him become one of the most highly regarded winemakers in the country, with multiple 90+ point reviews from major wine publications.
Randy McMillan, owner and partner of Rio Grande Winery is a seasoned farmer with over 40 years of experience in agriculture. He grows over 30 acres of grapes, including the Chardonnay grapes used in the award-winning wine. His commitment to using sustainable farming practices to ensure the health of his land and the quality of his grapes has made him a respected leader in the local farming and winemaking community.
Eloy Nicolas Ruiz, Vineyard Manager for Rio Grande Winery, brings over 20 years of farming experience to his role and is dedicated to ensuring that every grape used in the winery's wines is of the highest quality. His dedication to sustainable farming practices and his deep knowledge of the land and climate of the region make him an invaluable asset to the winery and the wider community of New Mexico winemakers.
"We are thrilled and honored to receive this award for our 2021 Chardonnay," said McDonald. "At Rio Grande Winery, we are committed to crafting wines that reflect the region's unique soil and climate characteristics. This award is a testament to our dedication to that vision. It's a great feeling to be recognized by our peers in the industry, and we look forward to continuing to produce outstanding wines that showcase the best of New Mexico's vineyards."
The Rio Grande Cottonwood photo taken at White Sands, New Mexico, on the Rio Grande Winery's 2021 Chardonnay label, is a visually appealing representation and symbol of cultural and ecological significance. As a member of the willow family, this majestic tree is often found near dependable water sources, highlighting its vital role in sustaining local ecosystems. The image serves as a reminder of the importance of preserving and protecting our natural resources for future generations to enjoy and cherish. The Rio Grande Cottonwood is a testament to nature's crucial role in our lives and its rich cultural heritage and ecological importance.
Founded in 2004, Rio Grande Winery continues the hand-crafted tradition of winemaking in the oldest wine region in America. Experience a breathtaking view of the Organ Mountains while enjoying wines handcrafted from our 28-acre estate vineyards. You'll find tradition and the authentic taste of the southwest through our creative commitment to quality and excellence.