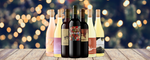 HOLIDAY WINE GUIDE
At Rio Grande Winery, we are committed to Mesilla Valley and the history of the Rio Grande. We are farmers, winemakers, and storytellers focused on creating the best product you can find in the oldest wine region in America. We have outlined each one of our wines below so you can share it with your family & friends this holiday season. Let the story continue with one another.
Pavla Blanca
Pavla Blanca - The Ghost of white sands, is an urban legend from White Sands.
This is a sweet wine, sister to Land of Manana. The grape is Black Muscat, which is a red grape from the muscat family, which gives the pink color. To get the pick color we immediately press the red grapes, to extract minimal color. We do not ferment on the skins, as we do with red wines, as the color comes from the skins and this extra time with the wine in contact with the skins is how we get the darker color in red wines. Coral pink in color, with aromas of rose petal, musk, strawberry and honeysuckle. Sweet and juicy palate, with flavors of peach, mandarin orange, honey, red vines and cantelope. Pairs well with a variety of spicy dishes, such as red chile enchiladas, Thai Food, or a fresh fruit salad.
From the National Parks Website;
Hidden behind the swirling eddies of the spectral white dunes, her tragic story provides one of the most fascinating tales of the Southwest.In early 1540, a valiant, young, Spanish conquistador, Hernando de Luna, left his lovely betrothed, Mañuela, in Mexico City, to accompany the famed explorer, Francisco Coronado. Searching the uncharted lands in present day Arizona, New Mexico, Kansas and Texas, Coronado followed every Indian clue, every tale, looking for the fabled Seven Cities of Cibola and Gran Quivira, where the houses were said to be studded with gold and the streets were afire with jewels.Ambushed by the fierce, proud, warrior Apaches on the edge of the Great White Sands, the Spanish battled for their life. Exhausted and beaten, the survivors fled southward to Mexico City. It is said that Hernando de Luna was mortally wounded, and perished somewhere in the ever-shifting white sands. Setting out to seek her betrothed, somewhere north of what is now El Paso, Texas, the lovely Mañuela was never seen again. It is said that the ghost of this beautiful, Spanish maiden haunts the dunes of the Great White Sands. She comes nightly in her flowing, white wedding gown to seek her lover, lost and buried beneath the eternal dunes. Some say that the ghostly figure usually appears as the evening breezes sweep and dip over the stark white dunes, just after sunset.

The moderns have it that Pavla Blanca is caused by a prevailing wind sweeping over the hushed and lonely desert in the evening, whipping wraith-like eddies of dust. But the Indians say it is the ghost of Mañuela, still, eternally, seeking her lover.

Fact or fiction, those with imagination, strolling in the silent shimmering dunes after a fiery sunset, may be fortunate enough to witness for themselves the unusual sight. Thus, this legend persists for some, even to this day. This is Pavla Blanca.
Land of 

Mañana
From the moment you remove the cork from this sweet style Moscato, aromatics of rose petal, pear, and orange blossom fill the air.

This pale straw-colored wine bursts with flavors of peach, mandarin orange, and citrus zest finish. Well-balanced acidity and depth of flavor keep this wine from being too sweet. Perfect for sipping anytime, it pairs perfectly with a variety of foods, from spicy Asian dishes to your favorite street tacos, hot from the truck.

Once you pour yourself a glass, the worries of today will fade away, as there is always Mañana, or it can wait until Mañana.
Desert Nights Rosé
The inspiration for Desert Nights Rosé comes from all the colors of the magical desert sunsets that engulf us during harvest. With a color reminiscent of the Organ Mountains during golden hour. This dry Rosé draws you in with aromas of fresh pomegranates, strawberry, and pink peony roses while bursting with flavors of ripe melon, cranberry, and blueberries lingering to a soft, easy-drinking finish. 
Desert Nights Rosé, like sunsets in the desert, is best enjoyed while sitting back, not thinking too much and just taking it all in.
Flor Blanca
A blend of Muscat Blanc, Malvasia Bianca (part of the Muscat family), Chardonnay, with a kiss of Viognier and Gewurztraminer.
Lifted floral aromas of Rose petal, jasmine, honeysuckle, and orange blossom leap from the glass. The soft acidity compliments the tropical flavors of honeydew, and white peach, with wildflower honey and a touch of salty graham cracker on the finish.
Flor Blanca is best paired with chicken fettuccine alfredo with green chile, delicate fish such as fresh-caught trout, and striped bass, and is the perfect companion to any fish taco.
For vegetarian options, Flor Blanca pairs perfectly with spaghetti squash, butternut squash, and any grilled squash straight from the garden when in season. Oyster mushrooms and tomato, arugula, and watermelon salad.


Chardonnay
Chardonnay grapes come from the vineyard in front of the tasting room. Pale straw in color, with aromatics of honeydew, orange blossom, cantaloupe, lime zest, and a kiss of vanilla. A full rounded palate with flavors of pear, white peach, papaya, citrus zest, and honey with a soft, elegant finish. It pairs well with Fettuccine Chicken Alfredo, Fish Tacos, Chile Rellenos, and other mildly spicy foods.
Our Chardonnay won the Best of Show award for the best wine at the New Mexico State Fair Wine Competition.
Mission
The Mission grape has a history in New Mexico dating back to 1629. With a growing demand for sacramental wine to supply the expanding number of mission churches, Franciscan friars, out of necessity, defied orders from the Spanish Crown and planted Vineyards for wine production.

Mission is a red grape, made like our other red wines, where we ferment with the skins to extract color. Mission vines, however, produce large bunches with large berries. The berries' large size leads to a sizeable juice-to-skin ratio, which creates a pale red wine with soft acid and balanced tannins.
El Santo
An estate blend predominately of Zinfandel, Tempranillo, Sangiovese, & Malbec.
Garnet red in color, with aromas of black cherry, plum, tobacco, tomato leaf, blue-violet, and the desert at sunset.
A dry wine, with a lush, mid-weight palate, and balanced acidity. Flavors include blueberry, raspberry, dark chocolate, silky tannins, and a kiss of saltiness on the finish.
SPANIARD
The Spaniard is an estate blend of varieties Sangiovese, Cabernet Sauvignon, Tempranillo, all grown in the vineyard at the winery.

Deep ruby red in color, with aromas of Blackberry, Blueberry, strawberry, dark chocolate, leather, spice, herbaceousness (tomato leaf, basil, clove), vanilla, and the desert at sunset.

This is a dry wine. Recently bottled, this young wine currently is very fruit-forward and with time, the fruit will gradually mellow.

A juicy palate with flavors of blackberry, plum, strawberry, with long velvety tannins and a salty kiss on the finish.